Penny's Leftover Spaghetti Pie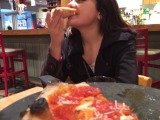 Leftover sauce and spaghetti? No problem! Nobody complains about leftovers in my house. This will not last! I use the pre-shredded Italian cheese mix from the grocery for an easy prep.
Directions
Preheat the oven to 350 degrees.
Grease a casserole dish with olive oil.
Toss the pasta with 2 beaten aggs and the 2 cups of shredded cheese.
Add the salt and pepper and mix well.
Place the pasta in the casserole evenly.
Spread the sauce evenly on top of the noodles.
Top with the Parmesan and sprinkle with the dried herbs.
Place the casserole on a baking sheet if it's in danger of bubbling over the top.
Place in oven and cook for 40 minutes, or until the dish is hot and bubbling and Parmesan is slightly browning.