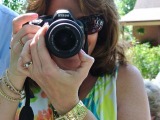 We love cornbread, but a lot of recipes are either too dry or too high in fat for my liking. I played around with one of our favorite recipes to try and come up with a balance between the two. I was pleased with the results. The family loves the cornbread, and I can eat it guilt free!
Directions
Combine all the dry ingredients in a mixing bowl. Add the remaining ingredients and mix just until moistened. Batter will be lumpy.
Pour into a greased 8-inch square baking pan.
Bake at 350°F for 35 minutes or until light golden brown on top. Serve warm or cool.