Cornbread... Southern Bacon Cornbread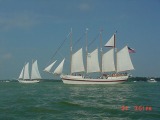 Went to a garage sale and this lady has a great collection of cooking books. So I purchased one called Cooking from the cupboard. Meals in minutes from your cupboard. Couldn't beat the price .50 for a hardback cook book with over 200+ recipes. This recipe is making corn bread from scratch,,,,no Jiffy Mix here!
Directions
Preheat oven to 375°F Coat an 8x8 baking dish or use your cast iron corn bread skillet.
In a large bowl mix in the cornmeal, flour, bacon bits, baking power, salt and pepper.
In a medium bowl, whisk together the egg, milk, honey, brown sugar and oil. Stir in the corn. Pour into dry ingredients and stir until completely moistened, do not over mix.
Pour into prepared baking dish or cast iron pan and bake for 25 minutes or until golden brown. Cool on a wire rack for 10 minutes. Serve.