Cajun Shrimp With Lemon Mustard Dip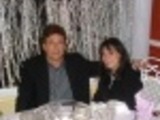 The shrimp has a nice zing to it, which is wonderfully complemented by the lemony dip. This is a nice alternative to regular shrimp with cocktail sauce.
Directions
In bowl, stir together mayonnaise, scallion, mustard, lemon juice, zest, and capers. Cover and refrigerate.
Rinse shrimp and pat dry. Toss with Old Bay Seasoning and onion powder until evenly coated.
In large nonstick skilelt, heat oil over medium-high heat. Add shrimp, in batches if necessary, and cook, turning once, until opaque and cooked through, about 2-3 minutes. Serve hot or cold with dip. If desired, garnish with lemon and dill.