3-Day Barbecued Marinated Beef Brisket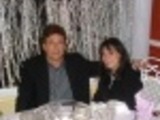 Yes, this takes three days to make, but it is well worth it. It is actually not cooked on a barbecue grill, although I suppose you could do that also. But it tastes like real slow-cooked barbecue! The preparation time listed is just the total of the three steps, and does not include full days.
Directions
First day: Combine liquid smoke, Worcestershire sauce, beef concentrate, garlic and 1 cup barbecue sauce. Marinate brisket in this mixture in the refrigerator overnight, tightly covered.
Second day: Bake, uncovered, in a 300 degree oven for 4 hours. Cool, wrap tightly in foil, and refrigerate overnight.
Third day: Remove meat, discard foil, slice brisket across grain and pour remaining barbecue sauce over meat. Reheat at 350 degrees for 30 minutes. Serve with sauce.